Refer-A-Friend Program - Get 50% on your next order for both of you!
and get 50% Off Your Next Order!
The Cloud Co Farms Refer-a-Friend program allows existing customers to receive 50% off their next purchase.
In addition, the friend who you refer will also receive a 50% off discount coupon to be used on their first order.
How Do I get My Refer-A-Friend link and Referral Coupon Codes?
First, click the MY ACCOUNT link at the top right of your browser screen. *
Next, click the REFER A FRIEND link on the left sidebar.
There you will then see Your Referral URL and a separate referral Coupon Code to copy and share.
Or, you may also choose the use any of the social media sharing buttons or the share via email functionality.
*Only existing customers may generate Refer-A-Friend links and coupon codes. You must be logged in to view your referral information in MY ACCOUNT.
What does the email look like that my friends will receive?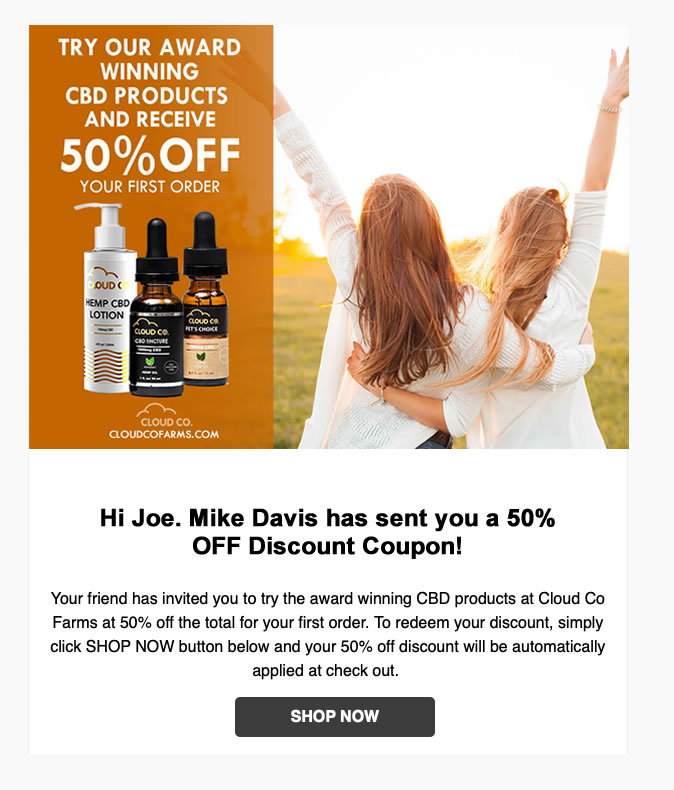 How Can I Track the Status and Earnings of the Referral Coupons I've Sent?
Each time a friend enters your referral coupon code or used the referral link you sent them, you will see it logged under Track your Invites.
You can also see Unused Refer-A-Friend coupons you sent as well as how many of your own referral coupons you've earned.
Helpful Information
Friends that use the Referral URL will not have to enter a coupon code at checkout. The discount will automatically be applied to the shopping cart total at checkout.
Friends that use the referral Coupon Code, should be sent to https://cloudcofarms.com and instructed to use the refer-a-friend code at checkout.
Questions about our Refer-A-Friend Program?
---