Happy Friday from the farm 🚜🌿
We hope you've had a fantastic week!
CBD can be used in any animal that has an endocannabinoid system. That's almost any animal, with the exception of insects. If you've heard about the powerful effects of using the best CBD oil for cats and dogs, rest assured CBD isn't just for them. Rabbits can use CBD oil too, as well as many other different kinds of pets (ferrets, guinea pigs, horses, etc.).
If you have a pet rabbit, you are probably well aware of their delicate natures. Rabbits are prey animals, and as such they can have severe anxiety, so much so they can even die from a fright. They also fall ill to many of the other issues common in other pets, such as seizures, arthritis, and other painful conditions.
Cloud CO. Farm's Pet's Choice CBD tincture can help to alleviate symptoms of those conditions. Suggested dosing is .2mg/lb and should be mixed in with their food.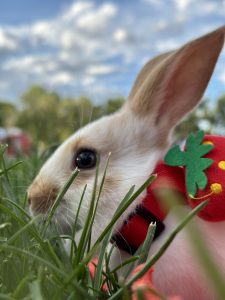 That's it from us for this week!
– Cloud CO. family