Happy Friday from the farm : )
We hope you all had a fantastic week!
Let's face it; there can be a lot of confusion when it comes to finding the type and quality of oil you're looking for.  Often CBD oil is referred to as "hemp oil" as a way to market and clarify that the CBD has been extracted from registered hemp crops and not recreational or medical marijuana.
However, some people may also refer to hemp seed oil as hemp oil but it is important to note that hemp seed oil and CBD oil are very different products! So let's dive into what those differences are.
Hemp seed oil comes from the seeds of the Cannabis sativa plant. The oil that comes from pressing the seeds do not contain any THC and very little to no CBD. There are health benefits from consuming hemp seed oil as they still have a rich profile of nutrients, fatty acids, and useful bioactive compounds.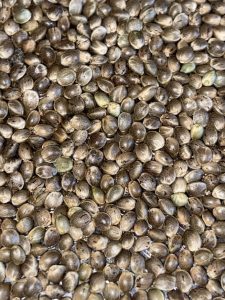 CBD oil is extracted from the flowers of the hemp plants. There are 3 forms of CBD found in all CBD products.
Full Spectrum Oil – contains all cannabinoids including trace amounts of THC
Broad Spectrum Oil – which contains several cannabinoids but not THC
CBD Isolate –  contains only CBD
Having a better understanding of hemp seed oil and CBD oil may allow both clinicians and consumers to choose the safest and most appropriate product.